Pervious Hardscape Materials
New Residential
What are Pervious Hardscape Materials?
Pervious paving systems absorb water, thus reducing or eliminating runoff. Pervious materials can be used in driveways, patios, walkways, parking spaces, and recreational surfaces such as tennis and basketball courts.[1] The primary purpose for utilizing pervious materials is to avoid the environmental damages associated with impervious surfaces. For example, impervious surfaces cause stormwater runoff, which can result in pollution and contamination of nearby water bodies and surrounding habitats.[2]
Green Infrastructure refers to stormwater management practices, such as pervious hardscape materials, that capture, filter, absorb, and reuse stormwater, restoring the natural water cycle, reducing stormwater runoff, promoting infiltration, and enhancing evapotranspiration (see Rain Barrels and Vegetated Roofs).[3] Pervious surfaces include pervious concrete, porous asphalt, interlocking concrete pavers, and grid pavers for use in low traffic areas, parking areas, and walking paths.
There are several types of pervious hardscapes (see Table 1). The basic components of pervious surfaces are:[4]
Uncompacted subgrade (original, undistrubed soil)
Base layer/filter fabric/geotextile
Uniform crushed stone base
Porous layer (pavement/paver/brick/stone)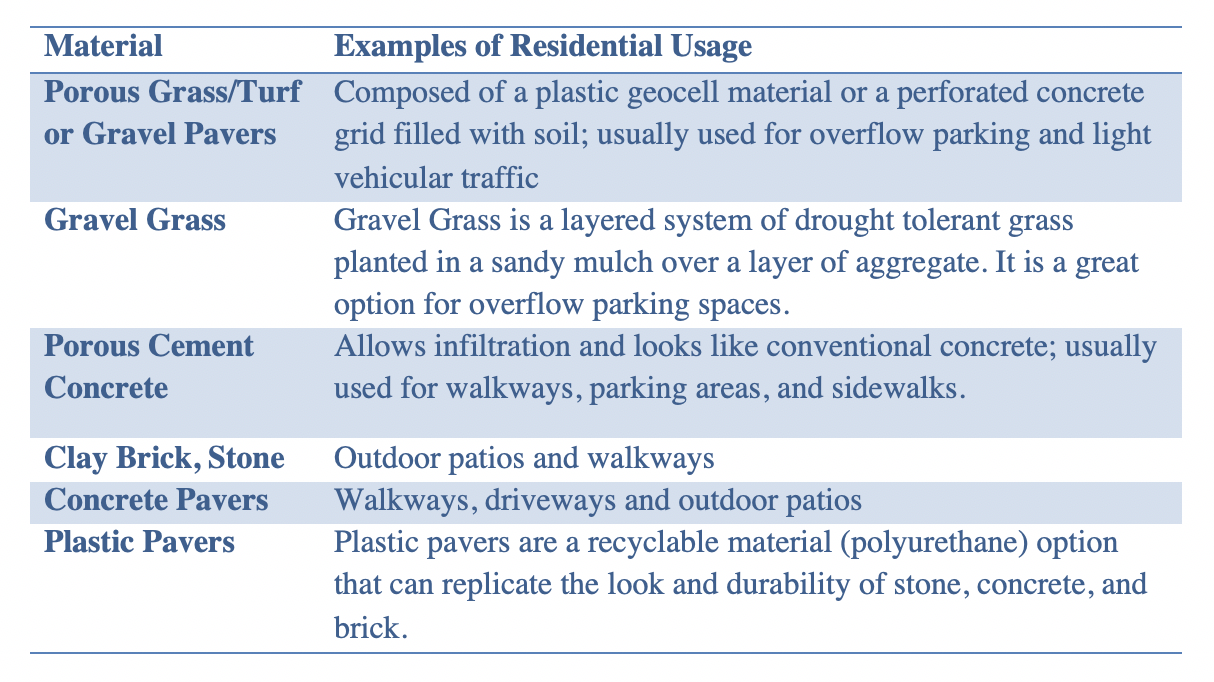 How to Implement Pervious Hardscape Materials
Review municipal regulations to determine whether the use of pervious hardscape materials is permissible at a development site. It may also be appropriate to discuss the use of pervious paving materials with local officials and Soil Conservation Districts.
Pervious pavers have to be properly installed to maximize the system's ability to absorb water. In addition to water collection, the base must also have adequate storage capacity. For most applications, open-graded crushed stone is utilized as a base material.[7]
Example
The BASF Near-Zero Energy Home, Paterson, NJ
This high-performance home, which serves as a model for the City of Paterson's ongoing effort to build 3,000 units of affordable housing, has a driveway constructed with interlocking concrete pavers.
Benefits
Using pervious hardscape materials:
Reduces storm water runoff and prevents storm water from polluting local waterways (see Rain Gardens).
Helps eliminate soil erosion and contamination caused by runoff.
Mitigates heat island effect.
Reduces material replacement costs and resource use through generally lasting longer than traditional impervious surfaces such as asphalt, and generally requiring less maintenance.
Reduces need to allocate land for detention ponds and drainage detention basins.
Helps recharge natural aquifers and groundwater systems.
Minimizes strain on water treatment plants during heavy storms and rainfall, thus reducing the possibility of overflowing and pumping of raw sewage into natural water bodies.
Costs
Costs for pervious hardscape materials will vary substantially by project. Final costs are influenced largely by the size of the project, labor expenses, and the type of material being used.  Cost comparisons for paving materials can be misleading. For example, on average, asphalt costs between $3.00 – $4.00 per square foot (depending on quality) but needs additional stormwater management systems installed, whereas pervious paving systems incorporate stormwater management. A more accurate cost comparison takes stormwater management costs into consideration. When stormwater management costs are added to asphalt, for example, the cost is between $7 and $15 per square foot.[8] Grass/gravel pavers typically cost between $3.00 and $10.00 per square foot. Interlocking concrete pavers cost between $6.00 and $15.00 per square foot and porous concrete cost ranges from $4.00 to $6.00 per square foot.[9] [10] While these types of materials may initially cost more than conventional asphalt, their lifespan is significantly longer, due to the higher durability inherent in concrete.  This in turn makes long term maintenance costs lower, due to the infrequency of major repairs and replacement.[11]
Resiliency
Green infrastructure, such as pervious hardscape materials, integrates resilient and green design to complement and reduce reliance on traditional "grey" infrastructure. For example, pervious hardscape materials help to increase stormwater infiltration, reducing stress on municipal sewer systems during heavy rain events, and help to recharge groundwater, during periods of drought.
[1] NJ DEP. Standard for Pervious Paving Systems http://www.state.nj.us/dep/stormwater/bmp_manual/NJ_SWBMP_9.7.pdf  (accessed April 15, 2018).
[2] LEED. "Ready Mixed Concrete Reference Guide" P. 16.
http://www.nrmca.org/greenconcrete/LEED_reference_guide_2009_3rd-edition.pdf (Accessed April 15, 2018).
[3] Rutgers NJ Agricultural Experiment Station – Water Resources Program – Green Infrastructure Guidance Manual for New Jersey http://water.rutgers.edu/GreenInfrastructureGuidanceManual.html (accessed April 2, 2018).
[4] NJ DEP. Standard for Pervious Paving Systems
http://www.state.nj.us/dep/stormwater/bmp_manual/NJ_SWBMP_9.7.pdf
[5] UC Davis, National Center for Sustainable Transportation. "The Application of Permeable Pavement with Emphasis on Successful Design, Water Quality Benefits, and Identification of Knowledge and Data Gaps." https://ncst.ucdavis.edu/research-product/permeable-pavement-northern-north-american-urban-areas-research-review-and  (accessed April 15, 2018).
[6] Interlocking Concrete Pavement Institute https://www.icpi.org/paving-systems/concrete-pavers/installation (accessed April 15, 2018).
[7] NJ DEP. Standard for Pervious Paving Systems http://www.state.nj.us/dep/stormwater/bmp_manual/NJ_SWBMP_9.7.pdf  (accessed April 15, 2018).
[8] Prince George's County Department of the Environment. "Permeable Pavement Fact Sheet." https://cbtrust.org/wp-content/uploads/Fact-Sheet-and-Guidelines_Permeable-Pavement_042120.pdf (accessed March 24, 2018).
[9] Homeadvisor.com. https://www.homeadvisor.com/cost/outdoor-living/install-asphalt-paving/   (accessed March 24, 2018).
[10] Improvenet.com.  https://www.improvenet.com/r/costs-and-prices/driveway-pavers (accessed March 24, 2018).
[11] Prince George's County Department of the Environment. "Permeable Pavement Fact Sheet."