Green Power
New Residential
What is Green Power?
Green power refers to renewable energy resources and technologies that provide the highest environmental benefit including electricity produced from solar, wind, geothermal, biogas, some forms of biomass, and low-impact small hydroelectric sources (i.e., do not impact land use and fisheries).[1] Homes get their power from a mix of energy sources with varying levels of environmental impacts and benefits (see Figure 1). Electricity generated from coal, nuclear, oil, natural gas, wind, and solar all goes to the same grid (see Figure 2). Renewable Energy Credits (RECs) represent 1 MWh of renewable electricity generation and provide proof of the electricity generated by green power.
Energy-efficient single-family homes that are not ideally suited for on-site renewable energy generation can voluntarily choose to switch to green energy or purchase RECs to help offset their home's environmental and carbon footprints.
How to Purchase Green Energy
In New Jersey, the Electric Discount and Energy Competition Act (EDECA) of 1999 (N.J.S.A. 48:3-49) separated the supply portion of the electric rate from the delivery portion, providing the consumer the opportunity to select among third-party electricity suppliers licensed by the New Jersey Board of Public Utilities (NJBPU). Consumers can make decisions on a variety of factors including cost or energy efficiency and sources of electricity generation (e.g., nuclear, natural gas, oil, solar).[2]
Through the purchase of green power, a home does not necessarily receive renewable energy directly, but instead, the purchase of renewable energy increases the percentage that renewable sources (e.g., solar and wind) that contribute to power production within the region. Table 1 lists various ways to purchase green energy.
Table 1 – Green Power Supply Options (Source: Adapted from US EPA).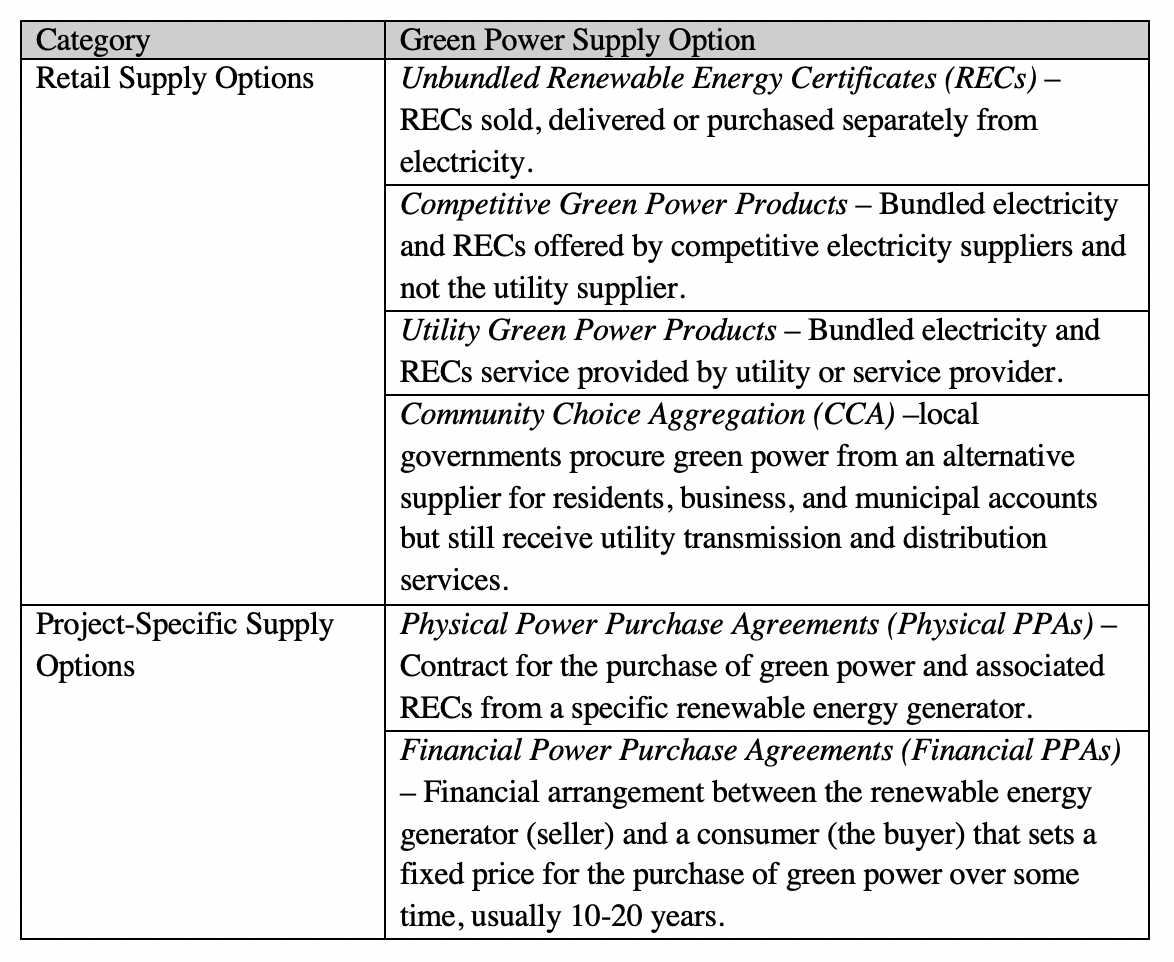 Residential electricity consumers may choose to purchase RECs, contract with a green energy supplier or participate in a utility-sponsored green energy program. Green power products and programs often require customers to pay a premium over the standard electric price in return for green power (i.e., electricity bundled with RECs) but the utility continues to provide the electric transmission and distribution in the same way as a regular electric customer.
Note that green power supply options depend on available renewable energy resources and projects, and state and utility policies and programs. Check with your utility provider for available programs and current incentives. Other options include Power Purchase Agreements (PPAs) that directly support specific renewable energy projects.
The decision to purchase green power involves identifying and comparing green power options among verified, third-party certified green power providers that meet nationally-accepted standards for product quality. At this time, the Center for Resource Solutions'- Green e-Certified Program is the only organization that certifies and independently verifies green power products in the United States.
Benefits
Conventional electricity relies on fossil fuels and produces significant air pollution and greenhouse gas emissions. Green power provides the following environmental benefits:[3]
Supports renewable energy resource and technology development either directly through PPAs and bundled green power products or indirectly through RECs.
Reduces a home's carbon footprint associated with electricity consumption.
Example
Jacobstown Solar Farm, Burlington County, NJ.
The Jacobstown Solar project, by Community Energy, Inc., provides green power to the Jersey Central Power & Light (JCP&L) regional electric grid and helps farmland preservation in the area by providing a source of local revenue. Landscaping on the site matches the rural surroundings and plantings of low mow turf grass reduce stormwater runoff and improve soil conditions for future agricultural uses. When NJ homeowners choose to purchase green power, they support solar companies like Community Energy, Inc. and projects like the Jacobstown Solar Farm, that provide local sources of renewable energy.
Costs
While a switch to green power does not require any upfront capital costs, currently there exists a cost premium for green power of about 2 to 4 cents per kWh.[4] Prices for green power vary also depending on a variety of factors, including:
Supply and demand variability
Product type (e.g., RECs, PPAs, utility or competitive green power products)
Purchase volume (e.g., total kilowatt-hours)
Contract length (e.g., short- or long-term)
Resource and technology type (e.g., solar, wind)
Geography (e.g., local versus national)
Certification and verification status
Resiliency
A switch to green power provides resiliency benefits by helping to diversify and strengthen the electric power grid through the integration of cleaner energy sources such as wind and solar and by supporting local renewable energy generators and distributed renewable energy (DER) projects.
[1] US EPA. Green Power Partnership. "What is Green Power?" https://www.epa.gov/greenpower/what-green-power (accessed April 10, 2019).
[2] State of New Jersey. NJ Power Switch. Know Your Rights. https://nj.gov/njpowerswitch/rights/ (accessed April 10, 2019).
[3] US EPA. Green Power Partnership. Green Power Benefits. https://www.epa.gov/greenpower/benefits-using-green-power (accessed April 10, 2019).
[4] Residential Electric Default rates or Basic Generation Service (BGS) ratesfor NJ.     https://www.electricrate.com (accessed April 9, 2019).
Resources
New Jersey Energy Delivery Companies (EDCs)